The truth is in the wine
not the words.
Sourced from the Lewelling Ranch in the Saint Helena area of Napa Valley, our Unwritten Cabernet Sauvignon has complex and inviting aromatics.
The wine is an opaque purple in the glass, visually demonstrating the wine's youthfulness. The nose erupts with floral aromas backed by crushed black fruit, layers of cassis, hints of tea and traces of cocoa. On the palate the wine is bright and lively, exhibiting youthful flavors of blackberry and creme de cassis, supported by silky tannins promising decades of development. The mouthfeel explodes with a multilayered texture that must be experienced – words cannot do it justice. The finish lasts a good 45 seconds… which is longer than you will want to wait for your next sip.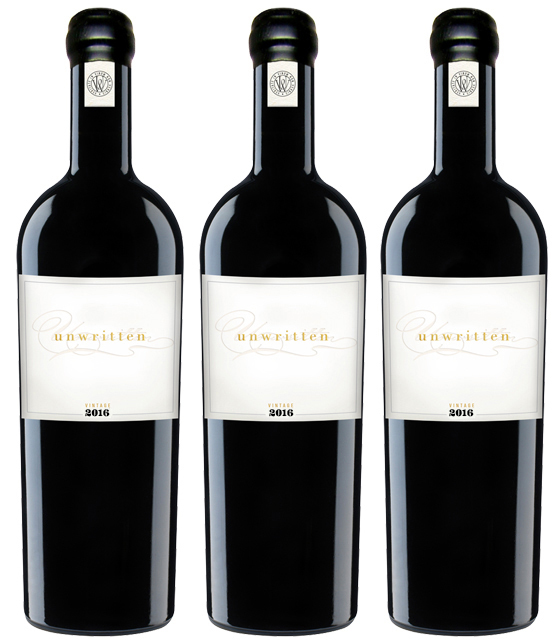 Optimal Ripening Conditions: 2016 Vintage Grapes
Lewelling Vineyards remains one of the longest continuously-owned and farmed family vineyards in St. Helena
In 1864, pioneer John Lewelling located his ideal setting to take advantage of the warm days, cool nights, and dry weather that would enrich the wine grapes for many generations.
The Source
Our 2016 vintage is a highly sought after, limited production wine, made from grapes grown on the historic Lewelling Ranch. The Lewelling family has been in the grape growing business for six generations and their ranch, located in the heart of St. Helena, is known for producing some of the most alluring Cabernet Sauvignons in all of California.
Winemaker
Mark Porembski first became interested in wine years ago while studying poetry and discovering that some restaurants in Boston's North End were not perfectly strict about the legal drinking age. He moved to California in 2000 to pursue his interest in wine, eventually taking on the position as Winemaker at Anomaly Vineyards. Mark founded Zeitgeist Cellars, a wine label in collaboration with his wife, Jennifer Williams, in 2005. With experience that includes dozens of wineries in Napa and a stint in Hawkes Bay New Zealand, Mark brings conscientious selection and a commitment to simple and thoughtful creation.
Like the wine's appellation, life is unwritten. We were inspired to create something beautiful – something that would grow with us in our own unwritten journey. And what originally started as a fanciful dream has become our life. As we poured our passion each weekend into hand-selecting the very best grapes and watching them grow and mature, our bonds as families and as friends also blossomed. Together, we created a wine that is timelessly delicious and decadent – one that can be enjoyed today, twenty years from now by our children, and beyond. Our families are forever impacted by this vintage. We hope that you'll get inspired and join our vinous family too.
Gain Exclusive Access to Our Wine
When you join our mailing list, you'll receive offerings for select experiences and be notified of special releases.